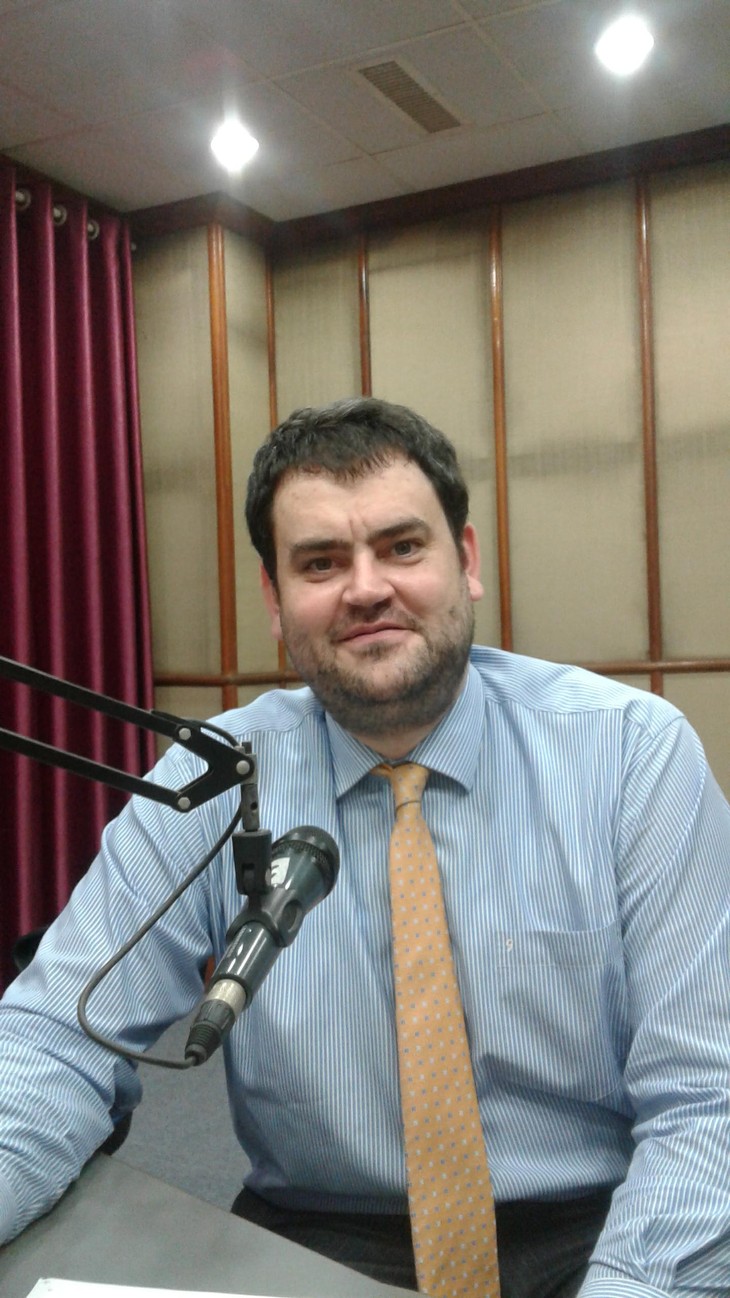 Mr. Gellert Horvath in VOV"s studio.
What do you think about Vietnam's current investment environment?
The investment climate in Vietnam is improving. The core business index is positive and moves 77 points according to the last quarter of 2017. As you see more than 40% to 50% of Eurocham Vietnam members are planning to hire more people or do more investment. They are satisfied with Vietnam's business environment. I think the Vietnamese government is doing a lot to facilitate and to reduce administrative procedures which are easier for businesses. As you probably see in the World Bank's business ranking, Vietnam now is in the 68th position from last year's 82nd. It means it moves up 14 positions which are very important for all businesses to come to Vietnam. We see in the long term, it will be better. Hopefully, we are waiting for the EU-Vietnam Free Trade Agreement to be signed which will bring more European businesses to Vietnam.
According to the White Book 2018, European investors have invested 1 billion USD in 115 projects in Vietnam. In addition to an improved investment environment, what else make the Vietnamese market attractive?
I think the macro numbers in the country are very promising. You have high growth rates; the inflation is stable so the macro economic climate is very good. At the same time because of the EVFTA, Vietnam is getting more and more attention from European side. At the moment, I think Europe has about 20 billion USD altogether of investment in the last 30 years ever seen the FDI is coming to Vietnam. We are ranking No5. But at the same time we have a lot of investment from Europe through Singapore. So we don't know exactly how much investment in Vietnam is. About 300 billion USD is the total figure of the FDI at the moment. I think Vietnam is promising in the medium term and long term. Vietnam is getting more attention and discussions of the EVFTA even bring more investors to the country. I think a lot of factors helping European businesses to come and to invest. Of course, we have to think a lit bit about the region and ASEAN is a very promising area and Vietnam is an active member of ASEAN as well.
Foreign investors continue to see Vietnam as an attractive investment destination. Do you think this will create more opportunities for SMEs and startup businesses?
I think that SMEs are crucial in Vietnam. There have been many interviews about this topic because you are receiving a lot of FDI. You have investors from Europe and all over the globe coming to Vietnam, building factories, doing all kinds of industries and the supply chain is very important. I think when investors come, they bring in international standards and expectations that can help SMEs meet these kinds of standards and that can give the possibility to SMEs to become the members of these supply chains which will be crucial in the long run. Let's say when you have free trade agreements in place, and then you have to make sure that SMEs will be beneficiaries of the FTAs and the government is doing a lot to support the SMEs such as promulgating some new incentives. It will be a good win-win situation because at the same time FDI companies are looking for local suppliers and Vietnamese companies can meet their investment standards.
What should Vietnamese SMEs and startup businesses do to make the most of foreign investment waves?
As I mention to you outreach is very important. Vietnam is now better known in Europe but there are still a lot to do, to promote the country like promoting EVFTA, Vietnam's investment opportunities. All these broadcast could be done through the embassies, through ministries, through business delegations going to Europe because that will create a picture of the country. Second is the startup. How can you meet the demands of investors – communicational skills, English as according to European investors, sometimes you have barriers of speaking the same language? Sometimes it's difficult to make them understand what you are looking for and to make them secure that the investment is secured for them on the long run. So another barrier I could say is the language….. Another issue is that you have to find places where you can meet the startup. Let's say the hatcher is a good example. There they are gathering a lot of good ideas doing business development, the incubation for the startup and then they can help the startup to find the investors. You need this link into the picture because startup itself sometimes has trouble to find proper investors. As you can see a lot of foreign business delegations are coming, if you can put this link together - with the good communications strategy, good English speaking, and good product - you will have a chance to get more and more investors.
Thank you for this interview. That was Gellert Horvath, Eurocham's former co-chairman.
Nguồn: vovworld.vn