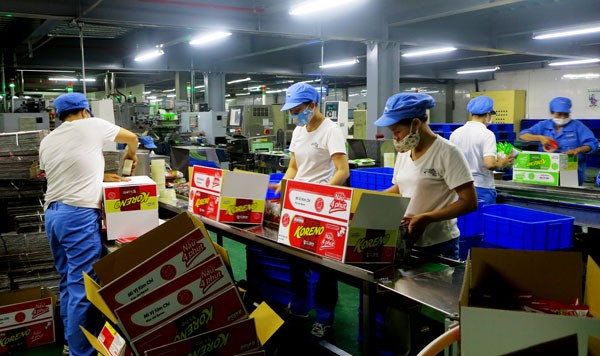 At Paldo Vina Company in Dong Lang Industrial Cluster in Phu Ninh district, Phu Tho province.
In recent years, Phu Tho has made remarkable progress in economic, technical, and social infrastructure. Most notably, transportation links like Highway 2 and the Trans-Asia Highway are helping Phu Tho to expand its industry, handicrafts, trade, and services.
Nguyen Manh Hung, Director of the provincial Industry and Trade Department, said: "Phu Tho is taking advantage of its improving the transportation infrastructure to attract investment and create breakthroughs for industrial parks, trade, and services. Last year, the flow of goods increased rapidly, and exports earned more than 1.3 billion USD. This year Phu Tho will try to beat last year's growth."
Phu Tho has 7 industrial zones and 26 industrial clusters, which employ more than 33,000 workers. Currently 106 projects are operating smoothly and 21 others are under construction.
Industrial production is contributing a major share of exports, helping to boost the province"s export turnover to approximately 1.3 billion USD last year, 109% of the set target, and to fulfill revenue collection goals.
Phu Tho has proposed 4 investment breakthroughs in infrastructure, administrative reform, human resources development, and tourism.
Hung said the province is trying to strengthen administrative reforms and improve the local business climate as well as the provincial competitiveness index.
"We have advised the provincial authorities to promptly resolve difficulties for businesses. We attach great importance to attracting investment to the support industry, to electronic assembly, and to developing traditional products," said Hung.
By tapping the available advantages and promulgating incentives and policies to attract investment, industrial production continues to expand and contribute to achieving the province"s socio-economic development targets.
Tran Tu Hai, a trade and services investor in Phu Tho, said: "The local leaders have given special attention and specific support to investors from land clearance to investment procedures. Our company, for example, needed only 3 months to go into operation."
Phu Tho intends to become a hi-tech industrial province by 2030. To that end, apart from accelerating administrative reform and investment attraction, the province will strengthen inspection activities, reduce environmental pollution, and enhance economic integration and investment cooperation.
It will also diversify trade promotion activities, support export promotion for industrial enterprises, and regularly provide market information to businesses.
Nguồn: vovworld.vn