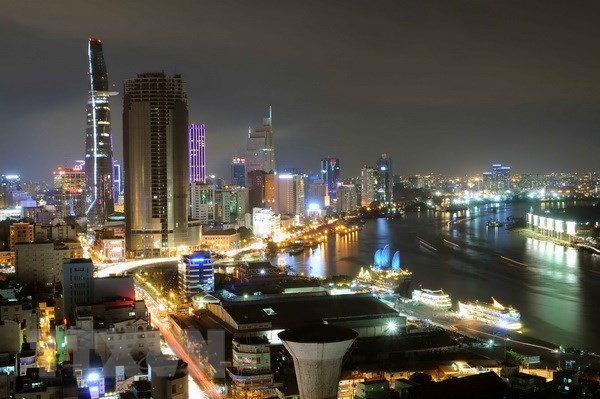 A corner of Ho Chi Minh City (Photo: VNA)
Ho Chi Minh City maintained an average annual growth of 8.2% in the last 2 years. But according to economists, the growth of the industrial sector still depends more on the expansion of capital and labor than on productivity, technology, or innovation. Domestic enterprises have not linked with each other in technology transfer, localization of products, or mutual support.
Professor, Doctor Nguyen Trong Hoai, Vice Rector of the University of Economics in Ho Chi Minh City, says the city should promote effective and innovative economic models while targeting long-term goals by making efficient use of resources, technology, infrastructure, and institutions.
HCMC should invest in a smart urban management center and shared data system based on an open mechanism and a modern infrastructure, said Hoai, adding: "Departments, sectors, and public service agencies need to promote the application of IT considering it a prerequisite."
Because Ho Chi Minh City lacks space for development, it's essential that it promote regional cooperation and links to become the hub of finance, high technology, and sales.
It should gradually shift labor-intensive industries to neighboring areas and build satellite urban centers instead of attracting too many immigrants.
Associate Professor, Doctor Do Phu Tran Tinh of the School of Economics and Law of Vietnam National University Ho Chi Minh City, said: "HCMC should cooperate with other localities in the region. We should promulgate policies that match with regional links and development direction, which will help improve growth quality."
Professor, Doctor Nguyen Thi Canh of the Center for Economic and Financial Research of the School of Economics and Law, pointed out factors that could limit the city's growth: too much dependence on capital, and low total factor productivity (TFP).
She suggested improving the investment environment, reforming administrative procedures, and decentralizing functions to avoid overlapping. Businesses expect municipal authorities to help them by improving access to capital, streamlining administrative procedures, and improving human resources.
Nguyen Thanh Phong, Chairman of the municipal People"s Committee, told VOV that HCMC welcomes recommendations of experts, scientists, and businesses.
He said: "The city will create the best conditions and do its utmost so that experts and scientists can maximize their contribution to municipal development. I hope experts and scientists will share their research and opinions to make mechanisms and policies more effective."
Nguồn: vovworld.vn